Dette er en del af "The Little Black Book On Test Design" af Rikard Edgren, som jeg har valgt at oversætte til dansk og udgive på denne blog.
Formålet med dette indlæg er at hjælpe testere med at finde den mest testværdige test blandt de til tider uendeligt mange muligheder for at teste, der er at vælge blandt.
På et tidspunkt skal du beslutte, hvilke tests, der skal afvikles og evalueres. Grundlaget for beslutningen kommer frem f.eks. under analyse af testgrundlag, under brainstorm om testideer eller når andre test afvikles.
Sandsynligvis gør du det hele tiden: du tager stilling til hvilke tests, som du finder, er vigtigst – bevidst eller ubevidst. Der er intet magisk i denne proces og den inkluderer mange forskellige faktorer: risiko, hastighed, muligheder, løfter, historik, held eller erfaring.
Du har ikke lyst til at anvende en masse tid på at vælge og prioritere test, så det vil føles helt naturligt at have en grænse, der hedder om noget er testværdigt.
En test er testværdig, når vi mener at den information, som vi kan få ved at afvikle testen, er tiden værd. Altså, informationen er så værdifuld, at det giver mening at bruge ressourcer på testen – uanset risici, krav, testtilgang osv.
Gerd Gigerenzer beskriver i bogen Adaptive Thinking (1) sin teori (der stammer fra Herbert Simon), om at intuition er baseret på heuristik, og at vi bruger hurtige og sparsommelige beslutningstræer for at foretage gode vurderinger i en kompleks verden med begrænset information.
For at kunne forklare og dele et ræsonnement, så giv din intuition noget gennemsigtighed ved at du prøver at bruge et beslutningstræ (2) til testtriage(3):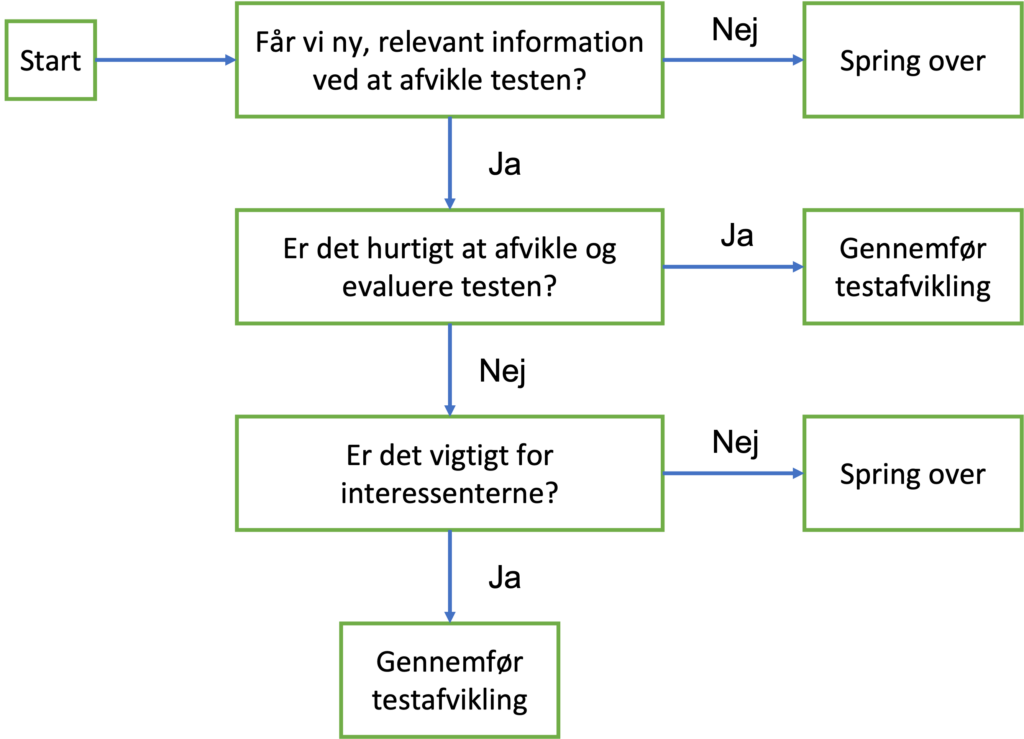 Rækkefølgen og indholdet af dine spørgsmål kan variere. I dette tilfælde tjekkes hastighed før vigtighed, fordi der er chancer for at finde ting, vi ikke vidste var vigtige.
I den anden ende kan det "relevante" spørgsmål fjerne tests, der ville have været perfekte, men det er OK. Vi kan ikke inkludere alt.
Der er også en balance, hvis det er umagen værd at afvikle testen, se mere på Erik Jacobsons blog indlæg "Eight Things You May Not Need To Test", http://www.testthisblog.com/2012/01/eight-things-you-may-not- need-to-test.html
(1) Gerd Gigerenzer, Adaptive Thinking: Rationality in the Real World, Oxford University Press, New York 2000.
(2) Metoden er ikke skudsikker, men den kan give de bedste resultater ifølge Gerd Gigerenzer, Gut Feelings: The Intelligence of the Unconscious, Penguin Group, New York 2007.
(3) More on test triage by Robert Sabourin, What Not to Test, Better Software magazine November/December 2004.